Win Easily When Playing Reel Poker Slots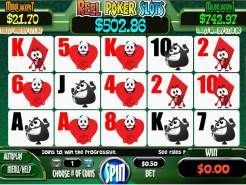 Play Now
Reel Poker slots is an exciting game where you have 100 ways to win. This makes it incredibly easy to score huge payouts in multiple ways. From three progressive jackpots to a rush of free spins with valuable multipliers, Reel Poker slots is a game you don't want to miss!
Payouts and Poker Symbols
The symbols found on the five reels in Reel Poker slots are comical takes on a deck of cards. From the diamond with the stuck-out tongue to the happy little heart, all the cards are found on the reels. Winnings depend on the hand you have. For example, you get 13 times your bet with a straight (the lowest prize), 20 times your bet with a full house, 2,000 times your bet with a five of a kind, or 10,000 times your bet with the royal flush. Cards can be in any order on a pay line, so there's no reason to have them in sequential order. All 52 symbols are on the reels, which makes it easy to get winning combinations with each spin.
Random Free Spins Bonuses
Free spins are awarded randomly by the computer and you can get as many as 30 at any time. When this bonus feature begins, you're shown 15 cards that are face down. Pick the cards until you find a matching pair. The matching pair's number is the number of free spins you're going to get. If you find a 2x symbol, the number of free spins doubles. After you know how many free spins you get, another set of cards are dealt face down. Choose these cards and find a matching pair. This determines the multiplier you get, up to 5x. After your multiplier is chosen, the free spin rounds begin.
Tips for Winning the Jackpots
The minor and major jackpots in Reel Poker slots are awarded randomly after reaching $75 and $750 respectively. Any bet puts you in the running for these two smaller jackpots. Bet all three coins and aim for the biggest of the jackpots. It's only available to those who have a three-coin bet. You win it when you get a royal flush and it can be from left to right or right to left. With 100 ways to win, this is easier than you might originally think. Reel Poker Slots is so much fun. With the thrill of a classic poker game paired with the excitement of a slot machine, you don't want to miss out on the fun. You have 100 ways to win and random free spins to help boost your winnings quickly. Play Reel Poker today and start raking in some cash.